Please feel free to contact us if you have any questions or need more information about this product using the form below.

---

Found a lower price? Complete this simple form:



---



IceToolz 82F4 Essence Tool Kit
IceToolz 82F4 Bicycle Bike Cassette Bottom Bracket Crank Chain Essence Tool Kit
Specifications:
Make: Icetoolz

Model Number: 82F4
Box:305*210*65mm
Includes:
04C2 Crank remover

29B2 Chain Tool for 7-10 speed

64P3 POM tire levers, set of 3 pcs

D8D4 Connecting tool from 8mm changing to 1/2"

09C1 Freewheel tool for Shimano CS compatible cassettes

25H6 6" forged adjustable wrench

39H4 9x10mm open end wrench

35V8 8x200mm hex key wrench with coating

36Q1 2/2.5/3/4/5/6 hex key wrench, 4x5x6mm ball-end

28P1 PH1 Philips screwdriver

28S6 S6 Flathead screwdriver

34S4 Lockring tool, freewheel turner, and 15mm pedal wrench

11F3 Crank adaptor for Shimano Hollowtech II compatible

12F8 Precise 8-groove spoke tool, for 10-15G

35T25 T-25 star key wrench, 20x100mmL

11B1 BB tool for Shimano / ISIS Drive compatible cartridge BBs
----------------------------------------------
包含以下工具:(由上至下)
曲柄拆卸工具
挖胎棒(3支裝)
打鍊器(6-10速)
扳手轉接頭(8mm to 1/2" Drive)
卡式飛輪套筒
活動扳手
2/2.5/3/4/5/6mm內六角扳手組
9x10mm螺絲扳手
內六角扳手(8mm)
十字起子
一字起子6mm
15mm踏板扳手/鉤頭扳手/飛輪止動器 三合一工具
星型扳手T-25
鋼絲扳手(幅條扳手)
一體式BB套筒
ISIS BB套筒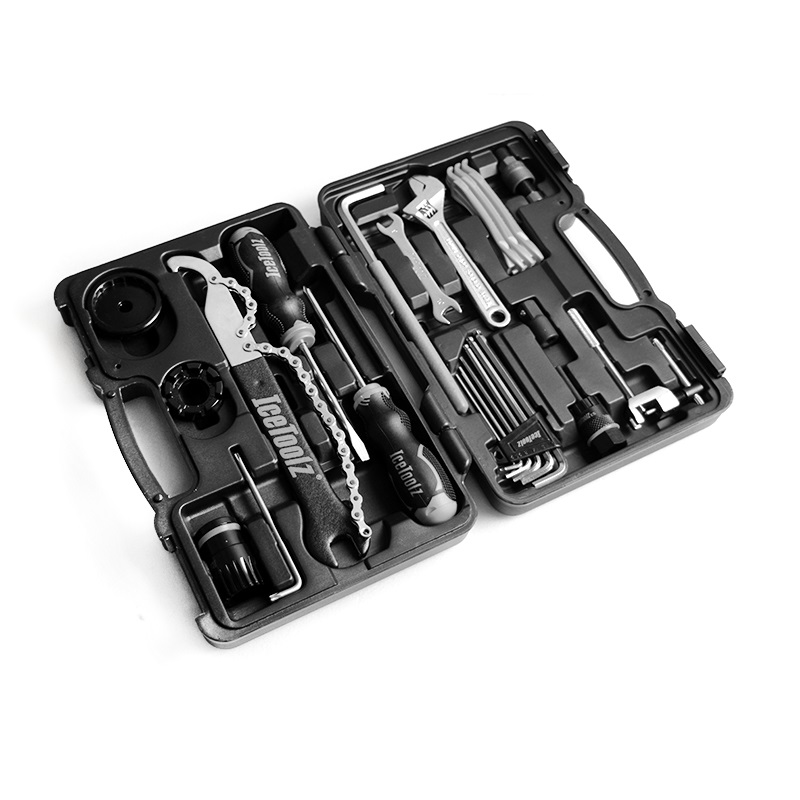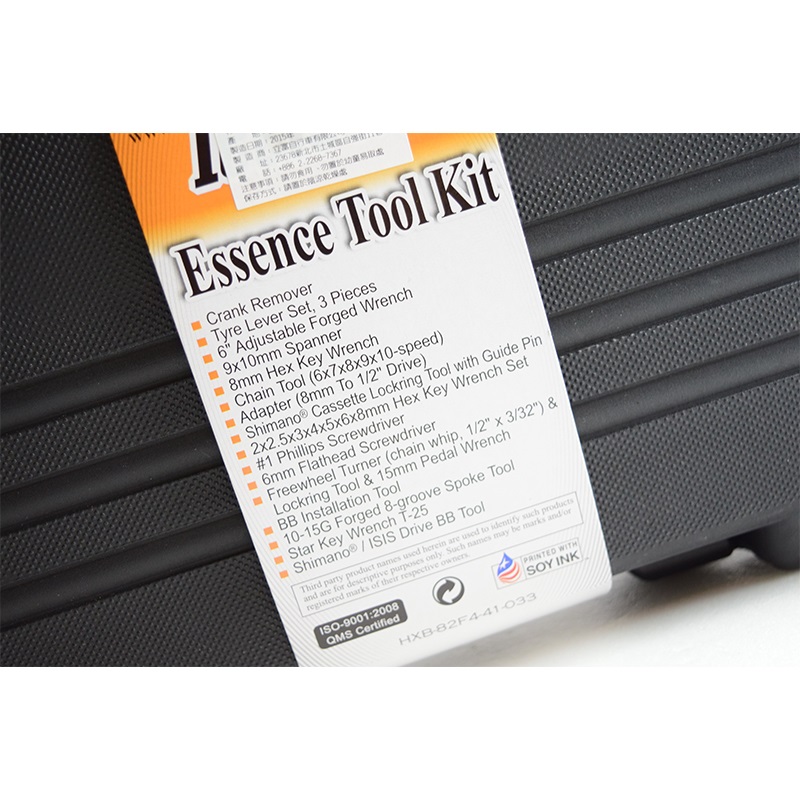 WORLDWIDE SHIPPING IS FREE!
We will use either insured airmail, or EMS courier service depending on weight and size limitations and we will provide a tracking number which you can use here to track your shipment: Chunghwa Post Tracking Service
Delivery takes between 5 to 14 days depending on your location. Please contact us if you require a faster service as we can upgrade to fast courier service for an additional fee.
For the items that are in stock, we can ship them to you within 24 hours. If your order for items that are not in stock, we will advise you of when we can deliver, as soon as the manufacturer or a distributor informs us.
Please note that CT Sports International is not responsible for any import duties or additional expenses beyond the shipping costs to your nominated address.
PAYING FOR YOUR GOODS
All purchases are billed in TWD (NT$, New Taiwan Dollars). Alternative currencies shown are for your convenience only and may vary significantly from day to day. We cannot guarantee the accuracy of displayed non TWD prices. Thus please check the actual price in your currency by converting the TWD price shown for the product(s) of interest, before you make the purchase.
Credit card. We use the government owned National Credit Card Center of Taiwan to process the credit card payments. We do not store your credit card information on the Cycle Taiwan Shop site. To pay by credit card, select "Credit card" during checkout and follow the prompts. Please also ensure that you have your 3D Secure or Verified by Visa information ready as many credit card providers now require this information for online payments.
PayPal. We are a verified business member of PayPal, therefore all your purchases are protected by the PayPal guarantee! If you have or want to create a PayPal account, this is the easiest way to make a payment. Just select PayPal during checkout and you will be taken to the PayPal site where you will make your payment.
Reward program
Every time you purchase something at Cycle Taiwan Bike Shop, you will receive reward points that you can use towards your future purchases. The points do not expire, and can be used to top up your cash payment, or to purchase products outright.


For example:
You purchase a wheelset for $400. You have already accumulated 1000 reward points from your earlier purchases and choose to use them towards the $400 cost of the new wheelset.
You submit 1000 reward points during checkout and instantly get a $20 credit giving yout the final checkout value of $380. An instant saving of $20!


Thus, keep shopping at Cycle Taiwan Bike Shop and gain instant rewards on all your purchases. To check your current points balance, please click here: Reward points records and balance